Picking up where we left off from our 2015 Summary. We are closing in on the end of another successful year. On September 18th we had our second farm to table tasting that was another great success. Since then I've been so busy with work that I haven't had a chance to see or think about the garden in months.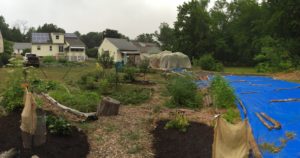 Snow isn't quite on the ground yet, but we're preparing for winter and the harvests are over except for our last rows of carrots which are still holding on. Here are some of the successes we've had this year.
Annual Vegetable Production
Last year we grew about $220 worth of vegetables. This spring we doubled the size of our garden, and started almost 2 months earlier than we did last year. This year we grew around $780 of vegetables. Here are some of the big winners
Cherry/Plum Tomatoes: $236 – 47 lbs from 6 plants
Full Size Tomatoes: $195 – 64 lbs from 10 plants
Peppers: $114 – 38 lbs from 10-15 plants
Eggplant: $62 – 41 lbs from 6 plants
Beans: $54 – 13 lbs from a dozen or so plants over multiple plantings
Cucumbers: $36 – 24 lbs from 2 plants
Carrots: $36 – 10 lbs from 2 rows
Brussel Sprouts: $18 – 5 lbs from 6 plants
Corn: $9 – 8 lbs from 2 rows
Peas: $7 – 1.5 lbs from 2 rows
Broccoli: $6 – 2 lbs from 6 plants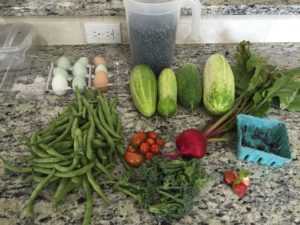 Most of the vegetables went to good use either in dishes, sauces, in the freezer, or were sold to friends and family. Some of the excess did end up going to the chickens because we weren't able to use it fast enough.
Fruit/Berry Production
This is a newly added section this year! Last year we had so few berries they never even made it into the house. This year with the transplant of 6 old mature blueberry bushes, and 1 more year of growth, we expanded our berry and fruit production to over $300, which included:
Blueberries: $140 – 23 pints from the 6 bushes
Raspberries: $83 – 10 pints from one row
Red Currants: $48 – 10 cups from 5 plants turned into jam!
Cantelope: $21 – 11 lbs from 1 plant
Watermelon: $16 – 32 lbs from one cluster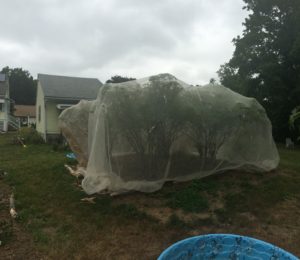 There were many morning spent out at the blueberry bushes picking for hours. This winter we do plan to prune them back to encourage new growth and hopefully bigger berries. The production may drop for a little bit, but hopefully the raspberries will continue to expand. Maybe some of our apples, peaches, and cherries will make it all the way to maturity next year!
Chickens
If you've been following you know we've had chickens since the spring. They continue to persevere as the days get colder. We will heat their water, but otherwise no heat required. Our first egg came July 2. We didn't start getting more than 1 until the middle of July, but by the beginning of August we were taking in 6-7 eggs per day. Here is our egg count by month:
July: 73 eggs
August: 230 eggs
September: 210 eggs
October/November: roughly 5-6 per day, we stopped counting exactly so I expect we got 150-200 eggs in both months.
With ample room to run around, a fully accessible indoor and outdoor run, and organic feed we are very pleased with the fresh eggs we're getting daily. As you can image 6-7 eggs a day is more than 2 people can eat, so we've been selling and trading eggs at $5 a dozen to a handful of loyal customers. We're taking in around $80 in eggs a month, which more than offsets the costs of feed, but certainly won't put us on track to pay back the coop construction for quite a while.
Sales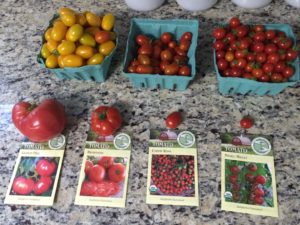 Another endeavor this year was being able to sell some of our excess food. There were certain weeks where we pulled a whole lot out of the garden, then spent a few days trying to find willing buyers. We are fortunate to have been able to sell $400 in vegetables, fruits, and eggs this year. Our biggest hits are eggs, blueberries, tomatoes, salsa, beans, peppers, and raspberries.
Family Growth
Back in April we got a 2 year old corgi named Ziggy, and a few months ago 2 cats named Padfoot and Dobby. On top of that, Jenny started with a new company a couple weeks ago, which puts us both working full time. While the blog and the garden took a back seat for a few months, we will continue to check back in here, as both of our passions will continue to bring us to food, growing, and farming. Hopefully we will settle in to a routine in early 2017, and be able to keep you up to date.
That's all for now!
Share Now!