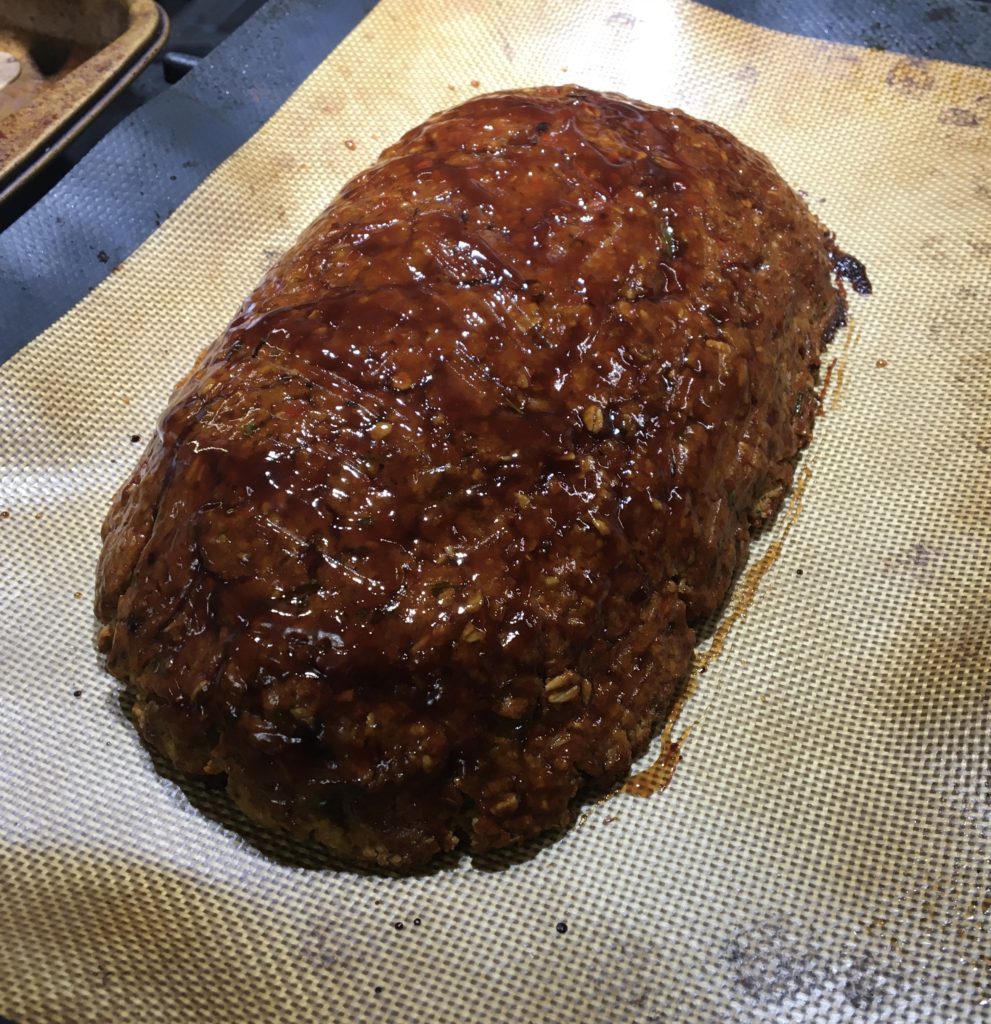 The Loaf:
Olive Oil
2 Cups Lentils – Whatever type you'd like – I used red
2 Cloves Garlic
½ Yellow onion rough cut into chunks
2 Carrots – peeled and cut into chunks
2 Tablespoons tomato paste
1 Tablespoon BBQ sauce
2 Tablespoons Flax Meal
1 Tablespoon Parsley
¼ Teaspoon salt and pepper
½ Cup oats
½ Cup Seasoned Low Salt Breadcrumbs

Glaze:
Ketchup
Balsamic Vinaigrette
Maple Syrup

You'll Need: A food processor, Knife, Cutting Board, Large pan, Bowl, Silicone Cooking mat or parchment paper and cookie sheet
Directions:
Cook the lentils in a saucepan with water- follow package directions or wing it like I do: accidentally don't add enough water initially and just keep adding water when it looks dried out. Set them to simmer on the stove until they are cooked through, once done turn them off to cool.
Add a couple tablespoons of olive oil to the pan and set to medium heat.
Chop the garlic cloves in the food processor until they look roughly minced, scoop out and set aside.
Toss the carrot, onion and celery in the food processor and pulse twice, don't make them too fine quite yet.
Dump them out into the warm oil.
Preheat the oven to 325.
Sautee them until they're on the verge of brown and add the garlic. Sautee until fragrant and turn off the heat.
Let them cool for a bit and add the remaining ingredients to the food processor. Add the lentils and veggies.
Process until they everything is mixed, up to you how fine you want your veggies. You can leave them a little chunky and have more of a rustic loaf or really chop them up to get that homogenized meatloaf texture.
Line a baking sheet with a reusable silicon mat or parchment paper and dump out the mixture onto it, shape it into a loaf shape, don't make it too thick but don't make it too thin. Try to avoid any thinned out edges, unless you like those crispy bits.
Bake for 30 minutes.
While its baking mix the glaze ingredients together. I usually use a 2:1:1 ratio, ketchup being the 2 ratio (tablespoons) but its up to your taste buds. Mix and taste. There isn't really a way to mess it up. While tasting the balsamic might taste a bit sharp but in the oven it'll caramelize with the syrup and it'll taste lovely.
Take the loaf out at 30 minutes and brush/pour/spoon the glaze on, bake for ten more minutes.
Let rest for ten more minutes, to let it set and so you don't burn your taste buds.
Enjoy!
The inspiration recipe is from Yummy Mummy Kitchen's Blog. I changed a bit up due to laziness and lack of ingredients but check her site out for more vegan recipes!
I also added some crumbled Tempeh to the veggie mix to add some more protein in, you can probably add tofu or a vegetarian meat substitute too.

Share Now!