Our four Red Currant bushes are ready and after a taste test right off the bush I figured out I wasn't a fan, and I think Jim agreed with me. After a tart (tiny) burst of berry flavor the seed is prominent and there is a rather chalky aftertaste. So what to do with all the berries?
With an upcoming Beach House weekend I needed an easy sharable edible offering and figured I would use our already ripe berries. I consulted the ever-so-helpful Pinterest and found this recipe for Red Currant Muffins.
>>Here<<
They required 2 cups of berries which was perfect since I had picked some with the rest of the berries that were ready. There is a whole stick of butter in this recipe. So of course they are yummy. I'm going to try and rework this recipe so they are healthier. I was wondering if the currants would be really tart in the muffins but they were perfect in the muffins, the butter probably helped, we'll see if I can rework it and it still works. I enjoyed the raw sugar on top of the muffins, it was a nice crunch on top with some added sweetness. I used half whole wheat flour which is the only change I made.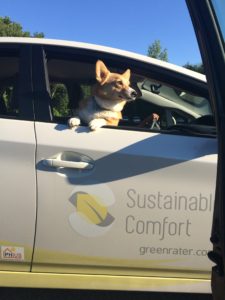 I didn't take any pictures of this en devour do to the last minute well timed and perfectly executed baking so please enjoy this majestic picture of Ziggy!
Share Now!